We are the home of the Mountain View Cougars!
Where Kindness, Collaboration, and Hard Work Matter!
Welcome back cougars for the 2023-2024 school year!
Each school year brings new and exciting opportunities for learning and growing as a community. This year we are excited to expand our opportunities for parents to engage in school activities that are meaningful for them. We will have opportunities for parents to volunteer throughout the year through our Watch D.O.G.S program, in the classroom and cafeteria, field trips, and school wide events such as Field Day and Career Day. We encourage parents to attend our monthly Parent Advisory Council meetings to be included in school wide decision making.
We are fortunate to have a very active Parent Teacher Organization that goes above and beyond to support our students. Please consider joining this year and attending family events offered throughout the year.
We look forward to a wonderful year of learning!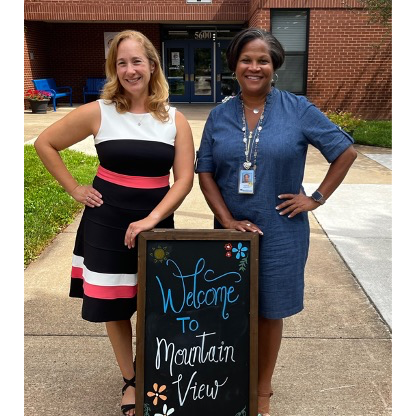 Asst. Principal, Lucy Jensen (left)   Principal, Adriane Harrison (right)